Welcome to Royal Jet Careers Center
We appreciate your interest in seeking employment with Royal Jet. Our careers website is designed to assist you with your job search, registration and application.
Our registration process requires you to complete the on-line application. Our online system will take you through the whole registration process step by step. Registration is required before you can apply for vacant posts; hence we encourage you to complete the whole process and provide us with as much information about yourself. This provides us a quick and efficient way to gather information regarding your work interest, qualifications and experiences relevant to job opportunities available at Royal Jet.
Once you have completed your registration, you may apply for any open position, or simply register for future career opportunities.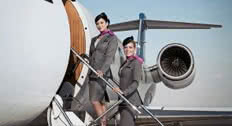 Post a CV Post your CV online where we can find you.
Search Jobs Find a job in seconds and apply with the click of a button.
Manage your progress Visit your Workspace regularly to track your CV statistics.